Seat Belts for Buses & Coaches
Work with the original coach seat belt manufacturer
GWR was the first seat belt manufacturer to install seat belts in coaches and buses.
Seat Belt Application Engineering Leaders
GWR is a preferred supplier of coach seatbelts to global OEMs in the coach industry. GWR is the leader in designing innovative seat belts for motor coaches with the retractor inside the seat, and our patented seat belt design that helps our customers stay ahead of the curve. Our experience designing seat belts for buses and coaches is still unparalleled, and our seat belts provide ultimate protection from passenger ejections in an accident or rollover.
Seat Belts for Enhanced Occupant Comfort
Coach manufacturers are looking for slim seats that take up less space but offer maximum comfort. GWR specializes in designs that allow for more leg room and additional comfort during long trips. Look for the most cutting edge and comfortable coaches on the road, and you will find GWR coach seatbelts.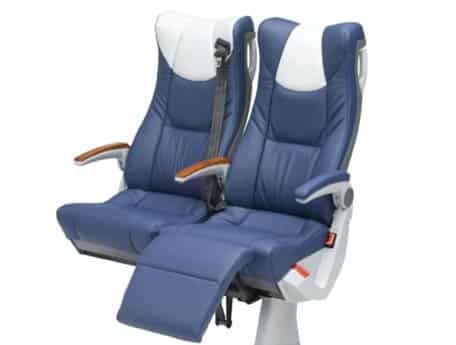 Custom coach seat belts for buses with automotive quality and the best technical expertise and service.
Solutions customized to your seats
Seat belts for bus driver seats & passenger seats
Range of motion retractors for reclining seats
Auto-adjustable solutions
Low friction designs and technology
Reverse-wound configurations for clearer webbing path
Electric Switch seat belt buckles
ELR retractor options 
Options for minimum weight & space requirements
Experts in 3-point seat belts for buses
To comply with expanding 3-point seat belt laws, work with the company that has been putting 3 point seat belts in coaches for decades. All of our coach seat belts meet not only Federal Motor Vehicle Safety Standards 209 & 302, but also ECE R16.
Questions? Our engineers have answers.
You don't learn everything from reading websites. Sometimes it helps to get the help of an expert. If you have questions about our seat belts, the design process, installation, or anything else, let us know. Our highly trained reps and engineers are standing by, ready with answers. In order to purchase your seat belts today, or to get started designing custom seat belts for your new seat, complete our contact form or give us a call.
OR CALL 314-732-0338